Press Conference of the Taiwan Affairs Office of the State Council on Mar.29
Source: Xinhua
Updated: 2017-03-30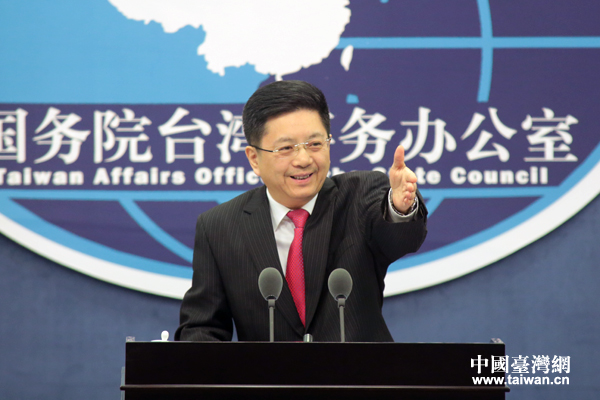 Ma Xiaoguang, spokesman of the State Council Taiwan Affairs Office (SCTAO), answers questions at a regular press conference on Mar. 29,2017.
"Taiwan independence" can never be allowed: Chinese mainland spokesman
The Chinese mainland and Taiwan belong to one China, and "Taiwan independence" can never be allowed. Full Story.
Mainland investigates Taiwan resident for national security violation
A resident of Taiwan, Lee Ming-che, is under investigation for being suspected of endangering national security, a Chinese mainland official said Wednesday. Full Story.
Mainland official calls for better cross-Strait exchanges
The Chinese mainland will resolutely oppose "Taiwan independence," and continue to improve cross-Strait exchanges this year. Full Story.
Arms race with mainland harms Taiwan's interests: spokesman
A mainland spokesperson said Wednesday that an arms race between Taiwan and the mainland would only harm Taiwan compatriots. Full Story.
Mainland urges early release of fishermen detained by Taiwan
A Chinese mainland spokesperson Wednesday called on Taiwan to release several detained fishermen and their boat as soon as possible. Full Story.