China firmly opposes US arms sales to Taiwan
Source: chinadaily.com.cn
Updated: 2022-09-07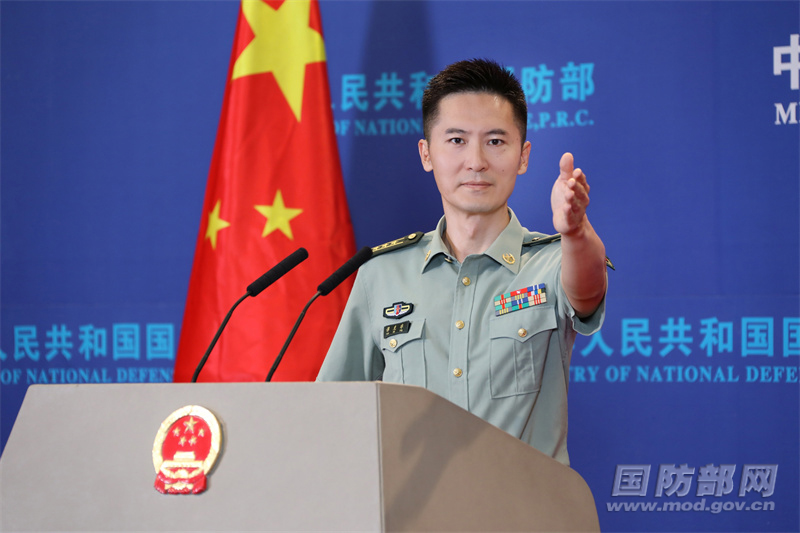 Tan Kefei, spokesman of the Ministry of National Defense. [Photo/mod.gov.cn]
China firmly opposed and strongly condemned the United States' new arms sales to Taiwan, urging the US to immediately stop its military contact with the island, and vowing to take strong measures to safeguard its interests.
"The US arms sales to China's Taiwan region are a blatant violation of the one-China principle and the three China-US joint communiques," said Senior Colonel Tan Kefei, spokesman of the Ministry of National Defense on Tuesday.
His remarks came after the US has approved a new round of arms sales to Taiwan, with a total value of some $1.1 billion (7.6 billion yuan), covering guided missiles and surveillance radars.
The arms sales "want to only interfere" in China's internal affairs, undermine China's sovereignty and security interests, and has intensified the tensions across the Taiwan Straits, said Tan in a statement, expressing firm opposition to the arms sales.
??He criticized that the US side "repeatedly broke its commitment" of not supporting "Taiwan independence", increasing its military collusion with Taiwan's Democratic Progressive Party authority and sending a "gravely wrong" signal to "Taiwan independence" separatist forces.
??The spokesman asked the US side to cancel the arms sales and stop its military ties with Taiwan immediately.
??"Taiwan is China's Taiwan, and the Taiwan question brooks no foreign interference. No one and no force can prevent the historical trend of complete reunification of the motherland," said Tan, underscoring that the "Taiwan independence" secessionist forces seeking independence by buying foreign weapons are doomed to failure.
??The public opinion cannot be defied and those who play with fire will perish by it, said the official, stressing that the People's Liberation Army has been training and preparing for war to resolutely defeat any form of external interference and separatist attempts for "Taiwan independence".
??At a daily briefing on Monday, Mao Ning, a Foreign Ministry spokeswoman also expressed strong condemnation to the arms sales and warned that China would take "resolute and strong measures" to firmly defend its own sovereignty and security interests.
??For some time, the US side has kept distorting, fudging and hollowing out the one-China principle, has made deliberate provocations on the Taiwan question, and supported and connived at "Taiwan independence" forces, said the spokeswoman, stressing that the US has an unshirkable responsibility for the escalation of tensions across the Straits.
??Mao urged the US to stop political manipulation by Taiwan-related questions, stop using Taiwan to contain China, and avoid going further along the "wrong and dangerous" path.