Mainland, Taiwan can learn to thrive together, adviser says
Source: China Daily
Updated: 2021-03-09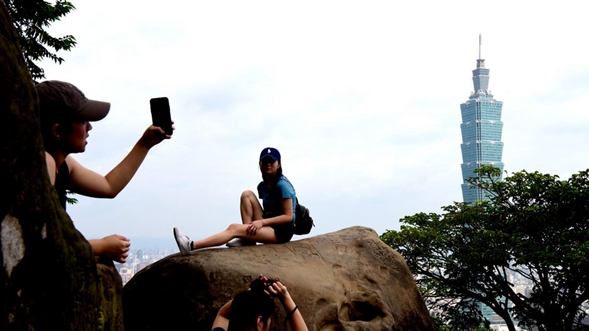 Tourists take photos with the Taipei 101 skyscraper in the background at Xiangshan Mountain in Taipei, southeast China's Taiwan, July 21, 2019. [Photo/Xinhua]
Li Biying, a member of the Chinese People's Political Consultative Conference National Committee born to a Taiwan father and raised in Shanghai, has been working to promote civil exchanges between the Chinese mainland and Taiwan for three decades.
Over the years, as the chairperson of the Shanghai branch of the Taiwan Democratic Self-Government League, she has brought together representatives from various social sectors?including those involved in community management and scientific research?across the Taiwan Straits to visit each other's cities and villages and learn from each other.
"We made suggestions to the Shanghai government after those trips to Taiwan and could later find that some of our takeaways from those inspections were absorbed into the policies and measures of Shanghai," said Li, who is also a member of the standing committee of the Central Committee of the Taiwan Democratic Self-Government League and deputy secretary-general of the Standing Committee of the Shanghai Municipal People's Congress, the city's legislature.
On the sidelines of the ongoing annual session of the CPPCC, the national political advisers, in Beijing, she brought a proposal to introduce the practice of permaculture to the Chinese mainland to contribute to rural vitalization, a key task after fulfilling poverty alleviation.
Permaculture is the development of agriculture based on natural ecosystems that are complete and self-sustaining. Farmers allow nature to do the work?no weeding, no pruning, no watering, no fertilizers and no pesticides.
For example, in a village in Taiwan that once had only nine households, as many people had migrated for job opportunities, agriculture and related leisure industries developed rapidly several years after the adoption of the practice.
"This model suits the development of small and scattered farmlands, and this can also assist in improving ecological cultivation on scattered farmlands in the cities of the Chinese mainland, which is an ideal supplement to the ecology and agriculture," said Li.
She said some villages in Shanghai that attempted permaculture in recent years have encountered problems, including a lack of long-term motivation and low enthusiasm among local households.
She suggested that the natural resources of a village, including paddies, windbreak forests and terraced fields, be considered materials for permaculture with a long-term strategy for ecological protection.
"This can also help reduce the use of pesticides, promote the return of paddy organisms, solve the degradation of soil fertility by using natural compost and have good environmental support for potential agricultural landscape tourism," Li said.
Li, born in 1959, started her career at Shanghai High People's Court, where she worked for 18 years in the field of external judicial exchanges and administrative management. Since 2006, she has been working at the Taiwan Democratic Self-Government League.
Working there, she facilitated representatives from Shanghai and Taiwan to witness each other's development and experiences.
As Taiwan is famous for friendly relations among neighbors, she led a team of grassroots community officials from Shanghai to visit several parts of Taiwan about seven years ago to see how the humanitarian element could play an important role in community governance.
Civil organizations dedicated to community management were also invited to Shanghai regularly during those years so that they and their counterparts in Shanghai could share and learn from each other.
"Those individuals were not only taken to the neighborhoods near the Bund, but also ones in remote districts, and they were amazed at how Shanghai had thrived," said Li, who made her very first visit to Taiwan in 2001 and had more than 100 extended family members welcome her in Taichung, the city her father hailed from.
Another of her proposals submitted to the national committee of the country's top political advisory body this time is to strengthen vocational education in western China to carry on the fruits of the country's poverty alleviation success.
She said that during an inspection tour to a county in Bijie, Guizhou province, she and her fellow party members noticed that there were rich medicinal resources. But the local vocational education did not make use of them, though they could provide a unique selling point for the region.
"If medicinal resource processing, commerce and trade, and marketing can be involved in local vocational education, I believe better local industries with their own characteristics will be created," said Li.
In the proposal, she suggested local schools help students obtain more job skills in modern agriculture and animal husbandry, ecotourism, ethnic culture and art, and agricultural products processing combined with e-commerce and computer applications.