Peaceful development to benefit both sides of Strait, says official
Source: chinadaily.com.cn
Updated: 2023-09-25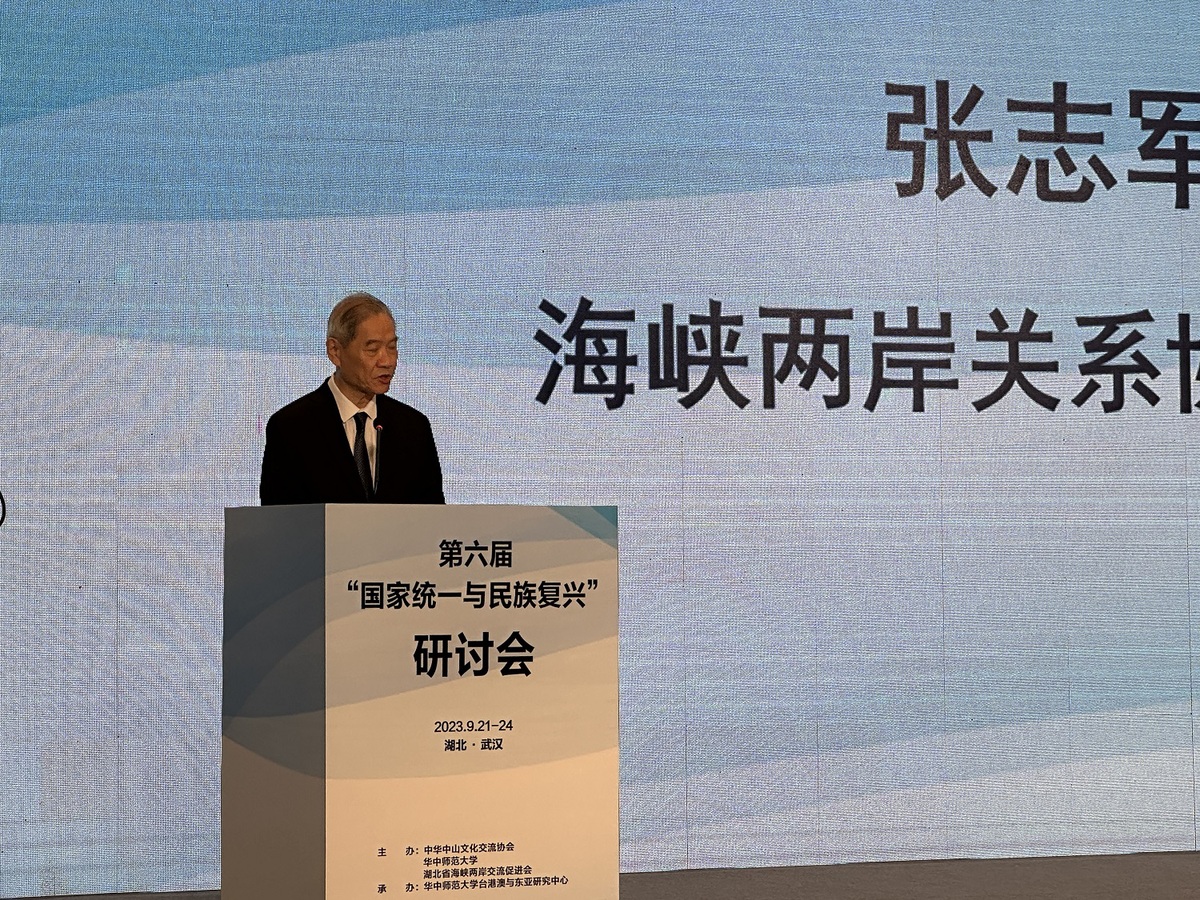 A seminar on national reunification is held in Wuhan, Hubei province, on Sept 22, 2023. [Photo by Liu Kun/chinadaily.com.cn]
The peaceful and integrated development of the two sides of the Taiwan Strait benefits people from both sides and the reunification of the motherland is the trend of the times, said Zhang Zhijun, president of the Association for Relations Across the Taiwan Straits.
Zhang made the remarks at a seminar on national reunification held in Wuhan, Hubei province, on Friday, attended by nearly 150 participants, including scholars and experts from both sides.
Taiwan's Democratic Progressive Party authorities' stubborn adherence to "Taiwan independence" and constant obstruction of cross-Straits exchanges and cooperation are the biggest obstacles to the peaceful development of cross-Strait relations, he said.
Also, some external forces have been using Taiwan as a pawn to contain the great rejuvenation of the Chinese nation, and try to push the Taiwan people to the brink of war and seriously endanger peace and stability in the Taiwan Strait, he added.
A seminar on national reunification is held in Wuhan, Hubei province, on Sept 22, 2023. [Photo by Liu Kun/chinadaily.com.cn]
"At present, cross-Strait relations are at a critical juncture and are facing an important choice. 'Taiwan independence' means war, and there will be no peace with secession," said Zhang.
Cheng Chi-shen, chief executive of Taiwan's Cross-Strait Cooperation and Unification Association, said only when all Taiwan compatriots recognize and identify themselves as Chinese, together with the history and culture of the Chinese nation, can cross-Strait exchanges achieve major progress.
The seminar has been held for six years in Hubei, which has close exchanges with Taiwan.
Hubei has set up seven cross-Strait exchange bases, and there are 3,029 Taiwan-funded enterprises in the province, with a total investment of $34.2 billion. There are more than 1,200 young people from Taiwan studying, working and running businesses in Hubei, according to Chen Ping, vice-governor of Hubei.