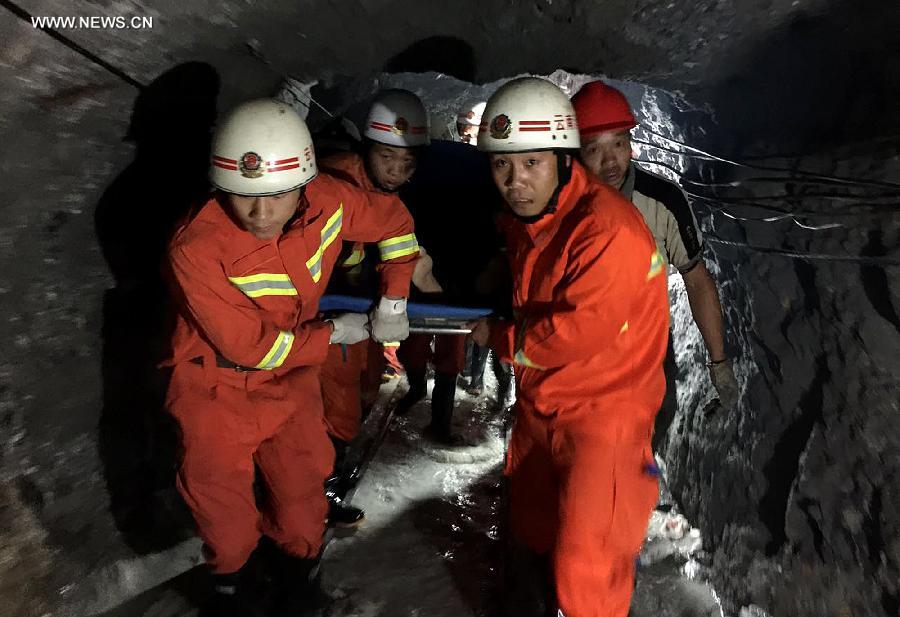 Rescuers carry workers out of a cave-in stannum mine in Lianghe County of Dehong Prefecture, southwest China's Yunnan Province, July 27, 2015. Eleven people who were trapped after a cave-in in a mine pit here Saturday all got rescued in the early morning of Sunday. (Xinhua/Huang Zhaokui)
KUNMING -- All the 11 miners trapped in a mine pit in southwest China's Yunnan Province have been brought out to safety after 40 hours of rescue, local authorities said Monday morning.
The trapped miners were brought out on stretchers through a tunnel excavated during the rescue early Monday morning.
A cave-in occured at a stannum mine in Lianghe County at around 1 p.m.on Saturday, when the miners were working underground.
Local authorities attributed the accident to the effect of a mudflow triggered by continuous downpour in the county.
Some ventilation equipments in the mine still worked after the cave-in. Detectors found life signs from the trapped miners.
Local authorities mobilized some 1,000 rescuers for the rescue.