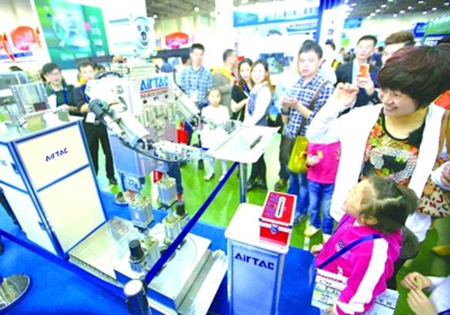 Representatives from political and business circles attended the 2015 Cross-Straits Economic and Trade Forum in Xiamen on April 12 to promote cross-Straits trade.
In 2014, the cross-Straits trade totaled $198.3 billion, the highest level in history, according to Kang Wen, from the Taiwan, HongKong and Macao Affairs Department of the Ministry of Commerce.
A total of 2,318 investment applications by Taiwan business people were approved by the Chinese mainland, an increase of 15 percent compared with 2013.
On the other hand, 228 enterprises set up branches or offices in Taiwan by the end of 2014, with $590 million invested, covering wholesale, retail, communication and tourism, Kang said.
Chen Deming, president of the Association for Relations across the Taiwan Straits (ARATS), said that the Belt and Road Initiative and Asian Infrastructure Investment Bank will bring new opportunities for economic development.
In addition, the mainland is paying attention to industries with high additional value and low energy consumption during the economic transition. Therefore, Taiwan, with rich relevant experience, can cooperate with the mainland, Chen said.
"A mass of Taiwan enterprises urgently need to reduce costs, raise efficiency and gain more investment opportunities through trade facilitation," Xiamen's Mayor Pei Jinjia said. The China (Fujian) Pilot Free Trade Zone (FTZ) will shorten the approval process and streamline the administrative process.
"We will rely on the FTZ to facilitate trade and drive cross-Straits cooperation," Pei added.