A budget carrier is recruiting cabin crews from Taiwan to enhance the travel experience for passengers from the island, as Wang Ying reports from Shanghai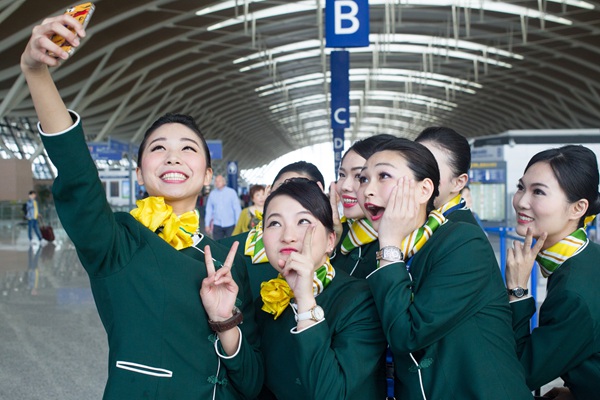 Flight attendents take a photo before departing from Shanghai Pudong International Airport on Thursday.[Photo by Gao Erqiang/Asianewsphoto]
From Thursday, travelers who fly with Spring Airlines Ltd may be surprised at the Taiwan accents of the flight attendants, after the publicly traded carrier recruited a batch of 24 crew members from the island.
The flight attendants, two men and 22 women, will serve passengers on the Shanghai-based carrier's more-than 90 flights between Taiewan and Shanghai and other cities on the Chinese mainland.
"Passengers from Taiwan should feel at home when they hear us speaking in their own dialect, and I would love to recommend scenic spots and good snack shops in Taiwan to people from the mainland,"said 34-year-old Hsu Shao-Ping.
"Taiwan is too small, and I think this job will ogfer great opportunities for travel,"said the TV reporter turned flight attendant. She visited the Shanghai Expo five years ago, and was deeply impressed by the city.
Hsu and her colleague Wang Chun-I will be the first of the crew from Taiwan to fly with the airline, when they depart from Shanghai Pudong International Airport on Thursday headed for Taipei's Taiwan Taoyuan International Airport. The other attendants will either begin work later on the same day or shortly afterward.
It will be Li Jui's first job. Li, who hails from Miaoli county in the northwest of Taiwan, graduated from a university in Taipei.
"Compared with Taipei, Shanghai is a much bigger city with a faster speed of life,"said the 23-year-old, who was excited about making her first flight for the company, from Shanghai to Zhanjiang, Guangdong province on Thursday.
When Spring Airlines launched a recruitment drive in Taiwan in October, it received nearly 1,000 applicants, according to Xiao Fei, an HR manager from China's first low-cost carrier.
The 24 new attendants will join the company's 1,100-strong team of flight attendants after they've completed four flights as interns.
For many 0f the new recruits, their training period at the airline was their first taste of the Chinese mainland, which will foster a deeper understanding of the mainland among them.