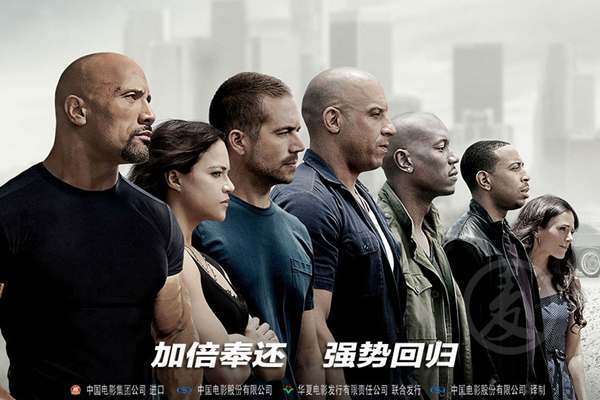 ?? Poster of "Furious 7" (Xinhuanet file photo)
BEIJING -- Street-racing thriller "Furious 7" continued to dominate China's box office with 108 million yuan (about 17.7million U.S. dollars) in ticket sales for the week ending May 10.
The blockbuster's total box office sales have reached 2.42 billion yuan since its release on April 12. It surpassed "Transformers 4" to become the most successful movie in Chinese cinemas on April 26 when its total ticket sales hit 2.02 billion yuan. "Transformers" grossed about 1.97 billion yuan in a single month in China last summer.
Domestic romance "You Are My Sunshine" came in at a respectable number two during the week, taking 89 million yuan, China Film News reported on Wednesday. Its total ticket sales hit 329 million yuan on May 10 after opening on April 30.
Third place went to domestic action-thriller "Helios," which earned 68.4 million yuan in the week. Its total box office earnings reached 199.8 millon yuan after opening on April 30.
Action-fantasy "Chappie" landed in fourth place with 64 million yuan after opening on May 8.
Rounding out the top five was domestic romance "The Left Ear," pulling in 62 million yuan in the week. Total earnings for the film have hit 466.2 million yuan since its release on April 24.