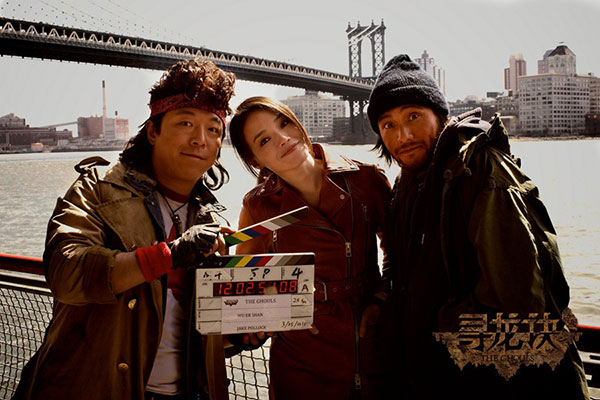 The Ghouls, a big-screen adaptation from a best-selling novel, starring A-listers (from left to right) Huang Bo, Shu Qiand Chen Kun, will premiere later this year. [Photo/China Daily]
"Almost all the CEOs of the major film studios are reading popular online novels every day," says Zhang, a winner of the Xia Yan Movie Literature Awards, one of the highest honors for screenplay authors.
"I have booked some traditional literature magazines, but the stories that qualified to be adapted to movies are very rare," Zhang says. "Most of the popular Web novels, which are followed by fans and changed according to their requests, have attractive storylines, but the writing may be poor."
Zhang says it is not difficult to become an online novelist, and the nature of online literature is "emotional".
"Consider some of the foreign classics. They may be badly translated but they still lure Chinese readers, as the sentimental partsare beyond language," he says.
Online novels refer to works that are uploaded for free to popular literature websites or forums. When some of them become Internet sensations, they will be bought by publishing houses or even major entertainment companies.
The latest available figures show that the 50 most-read online novels listed by China's search engine giant Baidu have all been purchased by film studios, with the most expensive sold at an adaptation price of more than 10 million yuan, according to domestic media reports.
While the privately owned entertainment giant Enlight Media has arranged several employees to search for good tales online, another giant LeTV has established an eight-person team with the sole task of hunting for novels that can be adapted for the screen.