Xi Jinping, general secretary of the Communist Party of China Central Committee, has met with Eric Chu, chairman of the Kuomintang party in Taiwan. The meeting is part of Chu's first visit to the Chinese mainland since he was elected KMT chairman in January.
Xi Jinping called for both sides of the Taiwan Strait to build a "community of shared destiny", and settle political differences through equal consultations.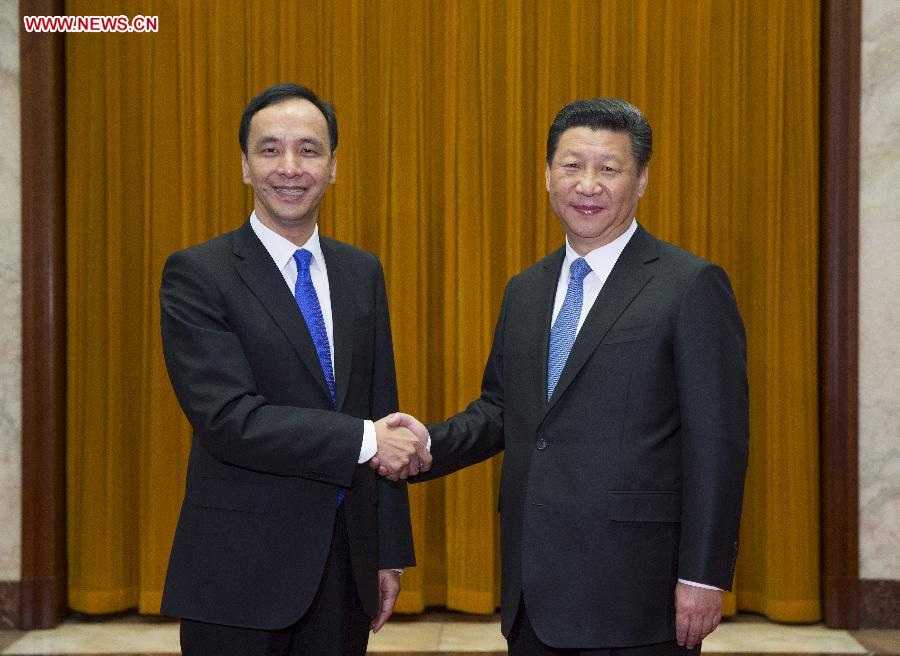 Xi Jinping (R), general secretary of the Central Committee of the Communist Party of China, meets with Chinese Kuomintang Chairman Eric Chu in Beijing, capital of China, May 4, 2015. (Xinhua/Lan Hongguang)
Xi Jinping said the two sides should adhere to a path of peaceful development under the 1992 Consensus, and oppose "Taiwan independence". He said the Chinese mainland will share development opportunities with Taiwan and improve people-to-people engagement. And he said the CPC and the KMT should seek solutions to lingering political differences.
Chu expressed the hope that both sides can work together, on the basis of the 1992 Consensus, to achieve regional peace, environmental protection and economic integration, so that progress in cross-Strait relations will benefit more ordinary people.