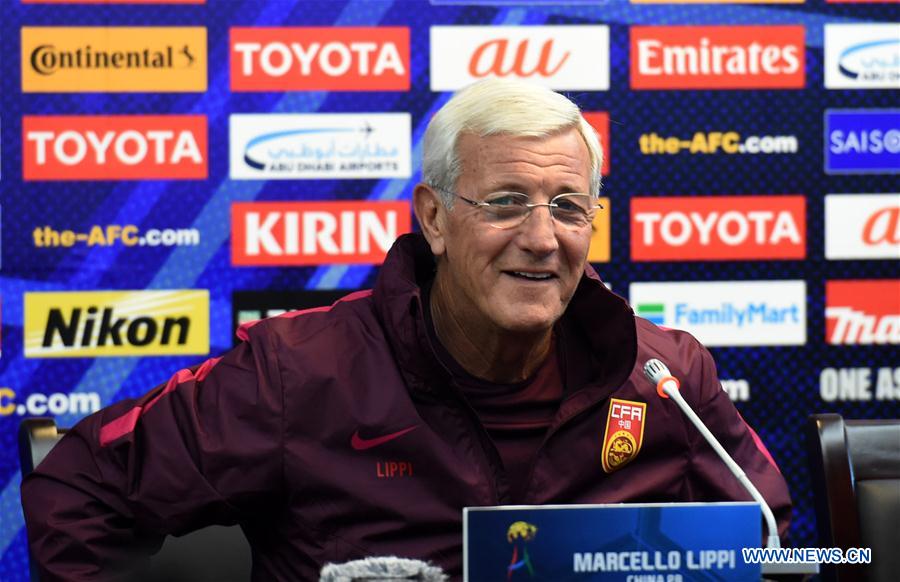 Marcello Lippi, head coach of China's national soccer team, reacts during the press conference for the 2018 FIFA World Cup Asian Zone Qualifiers against Qatar at Tuodong Sports Stadium in Kunming, capital of southwest China's Yunnan Province, on Nov. 14, 2016. (Xinhua/Lin Yiguang)
KUNMING, China, Nov. 14 -- World Cup-winning coach Marcello Lippi on Monday showed his determination to win the key World Cup qualifier against Qatar here on Tuesday night in his debut as head coach of the Chinese national soccer team.
"Our goal is to win, if we want to make the World Cup dream come true. We need points," Lippi told a pre-match press conference here on Monday.
China has suffered a 4-game winless run in the last stage of the Asian Zone qualifying campaign, collecting only one point and sitting at the bottom of the 6-team Group A which includes South Korea, Iran, Uzbekistan, Qatar and Syria.
The top two of the group will advance to Russia2018 directly after a home-and-away round-robin, and the third finisher will have a playoff against its counterpart in Group B.
But Lippi, who was officially appointed last month after local coach Gao Hongbo resigned, believed that China can play well.
"One point does not represent what the team can really do. There's no such big gap between us and the others," the 68-year-old Italian said through an interpreter. "In the past weeks, we worked very hard. I really believe we have very good players in the national team."
"Of course, we need to be very well-organized on the pitch. With discipline and instructions, these players can play very good football," he added.
China captain Zheng Zhi echoed the determination.
"As the coach said, our goal is to get three points," he said.
However, Lippi was cautious about China's qualification for the 2018 World Cup finals.
"For qualification, now the situation is quite difficult. We need to do a lot of work in many aspects. Most of all, we need to restore our confidence as soon as possible to go ahead.
"I don't know if we can achieve the miracle. But we'll try our best. If we can't succeed, we will continue our hard word for the next tournament, for the next stages," he said.
Lippi, who led Guangzhou Evergrande to win Chinese Super League three times from 2012 to 2014 and stand on the Asian top podium for the first time in 2013, resigned from the club in February 2015. He became China coach on Oct. 22, 2016 and will serve till the end of the 2019 Asian Cup.
Qatar has also changed their coach recently and Lippi praised Jorge Fossati as "talented".
"He is a very talented coach so they got very good results for the last two games. They are in good mood. You know, the 2022 World Cup will be held in their country."
Qatar are also desperate for a win as they are just above China in the rankings with three points.
"Tomorrow's match is gonna be very hard. But we came with strong confidence," said Fossati. "Three points is all we want."
Qatar lost 3-2 to South Korea and then beat Syria 1-0 after Fossati took the reins.