Southwest China's Yunnan province may boast five World Cultural Heritage Sites, but its first-place ranking on the country's tourism blacklist and unhappy reports from visitors have been receiving more attention recently.
The blacklist, issued by the China National Tourism Administration, is based on its monitoring system of news reports related to scenic spots, travel agencies and tourists. Yunnan ranked first in negative media attention in January, April and May.
Reports from the province included cases of tourists beaten at a scenic spot, tourists abused by tour guides and unreasonably cheap trips with forced shopping.
Other popular tourism destinations on the blacklist were Beijing, the Guangxi Zhuang autonomous region and the provinces of Hubei, Hainan and Jiangsu.
Yunnan province has long been noted for tourism disputes. According to a report released by people.com.cn, the province received the most complaints from tourists last year, accounting for nearly 25 percent of all tourist complaints nationwide.
According to the Yunnan Provincial Commission of Tourism Development, most complaints (71 percent) related to the return of goods. Complaints about tour guide services and forced shopping ranked second, accounting for nearly 14 percent.
"For a long time, Yunnan was the leader in the ethnic tourism market with a great reputation and attractions. However, in recent years, it saw more and more tourists, but failed to meet tourists' demands," said Zhang Guangrui, honorary director of the Tourism Research Center at the Chinese Academy of Social Sciences.
"Fierce competition in the tourism industry triggered many problems, including cheap tour groups with hidden traps," Zhang said.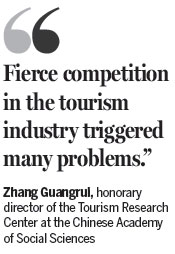 The Yunnan tourism authority said it has been working on regulating travel products, travel service providers and scenic spots. It recently started a special campaign targeting the jade and silver tourism market that will last until Sept 30.
Zhang said one key issue is that tourism management in Yunnan failed to keep pace with developments in the industry.
"Both the market and the consumers are not mature," Zhang said. "Consumers would prefer to choose those cheap trips instead of choosing reliable tour products, while the market prefers to have more profitable products instead of those that would help establish reputation and trust with tourists."
Wei Xiao'an, secretary-general of the China Tourism Leisure Association, said the government cannot be expected to resolve all of the issues and that tourists must become more savvy.
"Unreasonably cheap tours are one of the major issues in the industry," Wei said. "However, tourists should be aware that if a trip costs you nothing, you have to expect that they will force you to shop."